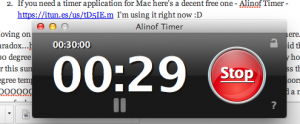 Since I didn't complete a 30 minute post yesterday,  I suppose that means this new resolution of mine isn't a daily thing…or maybe Sunday will just be an off day.
I'll start this session off with two things –
I need to amend my Saturday "to do" list with: make my own beer
If you need a timer application for Mac here's a decent free one – Alinof Timer – https://itun.es/us/tD5IE.m  I'm using it right now 😀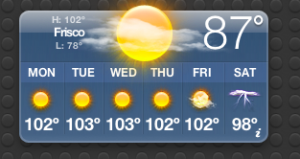 Moving on – Ronald and I had a pretty eventful uneventful weekend.  See what I did there…I love paradox…har har.  Anyway, we've been exercising/playing with the dogs early to avoid the near 100º heat throughout the day.  I think this week is going to be the consistently hottest so far this summer.  We've actually been fairly lucky this July with rain and unusually less than 100º temps.  We try to get them their activity time early so they don't mind being indoors for a LOOOOOONG time the rest of the day.  Seems to be working so far.  Saturday we tried a new place for brunch and ventured out to the Flying Saucer by the lake to add some beers to my list.  I don't remember much after the beer coma.  We didn't get active again until later in the evening.  I walked both dogs (give or take a mile each).  While walking Cooper, I decided to jog a little and got the hair-brained idea to actually workout on my own when we finished.  I invited Ronald along with me and we did the pretty easy walk/jog 30 minute combo that is the couch to 5k week 1 day 1 workout.  I'm thinking either tonight or tomorrow night – I'll tackle day 2.  I'm not even going to say I'll get all the way through the program, but for now – at least it's something.  Sunday morning – we awoke to discover that our downstairs A/C unit didn't seem to be working.  BOO ON THAT.  Fortunately, we were able to get someone out same day & they were able to make the necessary replacement to get us up and running again.  It did get a little warm – but not too bad.  We also had working A/C upstairs and that kept things from getting out of control.  So, we spent most of the day working that issue out and then headed South (as is starting to be our Sunday afternoon custom) to fill our growlers at Craft & Growler.  We also had a Sunday repeat from last week – visiting the Lakewood location of Cane Rosso for pizza.  If Saturday was beer coma, Sunday was carb coma.  I had to nap off my Neapolitan crust when we got home.  Then we watched some more episodes of Game of Thrones.  We finally bought into all the hype & started watching this show.  We really liked season 1, and we're now almost finished with season 2.  I can't say this 2nd season has really impressed me much…we'll see if it picks up again in season 3.  I'm pretty sure the books are WAY better, but I don't know if they're my kind of reads…especially now that I know a lot of the story line.  My understanding is the tv show is fairly faithful to the books' storyline.
It's been my experience that spa business sometimes slows down in the summer.  I haven't really experienced the slow down yet – but I'm not so busy this week.  We've got agility classes this week and Cooper has a private lesson (think we're going to work on his jumping competition height now).  Looks like I have a work conflict with Cooper's obedience class this week, but maybe we'll find another time to make up for it.  Other than that, it seems this weekend we might have a little family get together at Canyon Lake (us, my parents, my brothers & their girlfriends).  Should be a fun time.  I asked my brother to bring some shrimp for us to cook (I'm thinking scampi style seasoning)…and we'll have to come up with some other grill worthy choices.
I'm feeling pretty accomplished already this morning.  I got 1 mile in with Cooper (Ronald took Hendrix on her morning mile) and I've already put in my 30 min!  I have no illusions that my life is tough…  Monday is my usual day off – the only other things set on the agenda are my nail appointment and movie night.  I'm gonna see 2 Guns. I probably need to go to the grocery store, too.
Stream of conscious random add on – I watched an episode of something like Hoarders – Buried Alive yesterday.  That seriously scares me…the piled up tchotchkes everywhere…it makes me shudder.  I don't claim to be a neat freak…but just wow.  CRAZY.