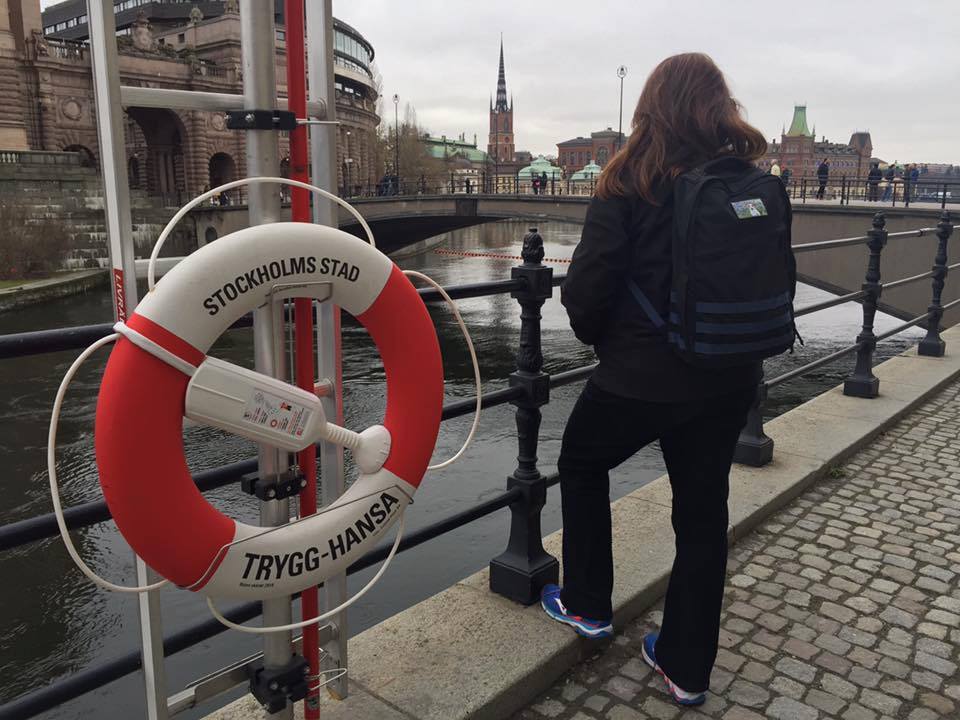 Today, it's been a week since I returned from my visit to Stockholm.  Sadly, only days after my return – there was a truck attack in Central Stockholm which made international headlines.  This hit particularly close to home…as this senseless and violent attack occurred a week to the day after I, myself, had leisurely walked down Drottninggatan.  I bought a scarf at H&M and passed through the intersection at Mäster Samuelsgstan and walked right into the exact entrance to Åhlens department store that's been seen all over the news with a truck driven through it.  My heart is still heavy in the wake of this event, and I'm sad for the lives lost and prayerful for those injured and recovering.
I was there in spirit with the people of Stockholm who held a "Lovefest" vigil against terror on Sunday at Sergels Torg.  Stockholm is such a wonderful place, and the greatness of the city and its people only shined in this tragedy.  
This was my third visit to Stockholm.  While Ronald worked Wednesday-Friday, I got to do some exploring.  We arrived on Tuesday evening…and most of that evening was occupied with getting settled into the city.  We traveled from Stockholm Arlanda Airport to the hotel (Radisson Blu Royal Viking) via the convenient Arlanda Express, and made a trip to a nearby Telia store to a obtain a data only SIM for me.  We stopped in the nearest Pressbyrån (chain of Swedish convenience stores) to top up our SL Travelcards with the 7 day all you can ride pass (SEK 315 or about $35 more info here ).  Finally, it was time to grab some dinner and we had a lovely walk through the St Johannes kyrkogård (cemetery) and past the Gothic revival style kyrka (church) to Bierhaus.  This restaurant is a German food and beer hall featuring homemade sausages.  We probably turned in a bit early that first evening.

Our hotel featured an amazing daily frukostbuffé (breakfast buffet), and we took advantage of it.  The selection was so plentiful you could probably have something different for breakfast every morning without repeating.  My first morning was cold, overcast and SNOWING.  So, I decided I would visit some of my favorite spots…that are fairly easy to access from the city center.  We were staying very near T-Centralen (Sweden's largest and central railway station), and I hopped on a train to the nearby Gamla Stan station.  I walked through Gamla  Stan, "The Old Town", which dates back to the 13th century and features medieval alleys and cobbled streets.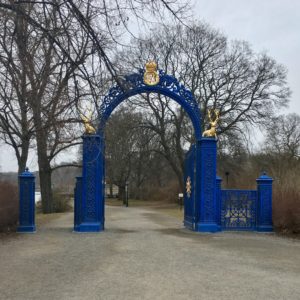 Eventually, I found myself back near Kungsträgården and feeling a bit ready for kaffe (coffee) and kardemummabullar (cardamom roll).  Café Flickorna Helin & Voltaire immediately came to mind…as it has been a favorite spot of mine since my first visit to Stockholm in 2011. It's a charming castle like building just off some of the lovely pedestrian paths on Djurgården (an island home to several historical buildings, monuments, museums, the amusement park Gröna Lund and Skansen a very popular open air heritage type museum .  I was definitely getting some steps in by walking there along Strandvägen with it's beautiful waterfront views.  This is a cozy spot I often long to visit when at home…so I simply enjoyed hanging our there momentarily sheltered from the cold and wet weather.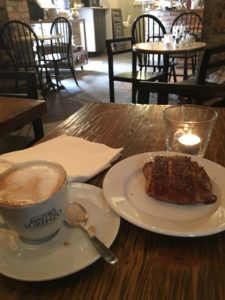 I decided to pay a visit to well known Östermalms Saluhall.  Currently, the well recognized facade of this famous food hall (originally established in the 1880s) is under construction/renovation.  Fortunately, I've already been in the original building, but I was curious to see the temporary covered market just across the street in the square which is housing all of the restaurants and stalls until some time in 2018.  I figured I might get inspired for lunch.  However, the hall was starting to buzz with the workday lunch crowd, and I decided I'd head back to my hotel room for a quick break and then browse for some lunch at T-Centralen.
When Ronald had an extended 6 week work assignment in Stockholm back in 2011, his flat had a coop grocery store just across the street.  I'm notorious for liking to visit grocery stores when I travel…so I was pleased to find a coop INSIDE central station.  I browsed the small but well stocked store, and decided to make myself a salad at the salad bar.  It's a long story, but I fell victim to credit card decline and not having cash on hand when trying to pay…  Even though I had gone out of my way to set pins for my chip cards and call my companies with travel notices…and the fact that my card had worked fine at flickorna helin & voltaire…I was stuck.  Fast forward some ATM searching and getting turned around later, and I made it back to my room to enjoy my lunch.
I confess that I also needed a nap after lunch.  Ronald returned some short time later, and we had plans to see one of his friends for dinner.  We enjoyed a meal featuring Northern Swedish cuisine at Knut.  I had a wonderful cocktail that I think featured whiskey and rowanberries, and Ronald had a beer from Jämtlands Bryggeri (a brewery in Northern Sweden).  I had a Skrei cod dish and Ronald had minced moose steak.  We were quite delighted & surprised by the minced moose steak.  That's pretty much a wrap for Day 1.